CBI provides courses in Bible, theology, spiritual disciplines, biblical languages, comparative religions, church history, expository preaching, biblical counseling, ministerial leadership, worship, and church management. Areas of study are for those who aspire to be pastors, biblical counselors, church planters, church administrators, youth ministers, and worship leaders.
WE BELIEVE
that theological and ministerial education can and should take place in the church—as it has for the majority of church history.
WE BELIEVE
that all Christians should have the opportunity to be thoroughly equipped with the education and resources they need to effectively serve the Lord.
WE BELIEVE
that Christian education ought to be affordable—which is why our courses are a fraction of the cost of those offered at Bible college and seminary.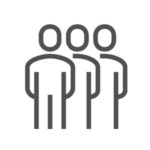 WE HAVE A TEAM
of experienced pastors and professors who are actively engaged in the work of ministry and know how to equip people for ministry.
OUR PROGRAM
is church-based and hands-on—integrating biblical and theological studies into real life and ministry in the local church.